The key functions of your new gym app.
Dive into the new digital world of your club.
Adapt your app completely to your own colored studio design including your logo and bring the digital connection between your studio and your members to a new level.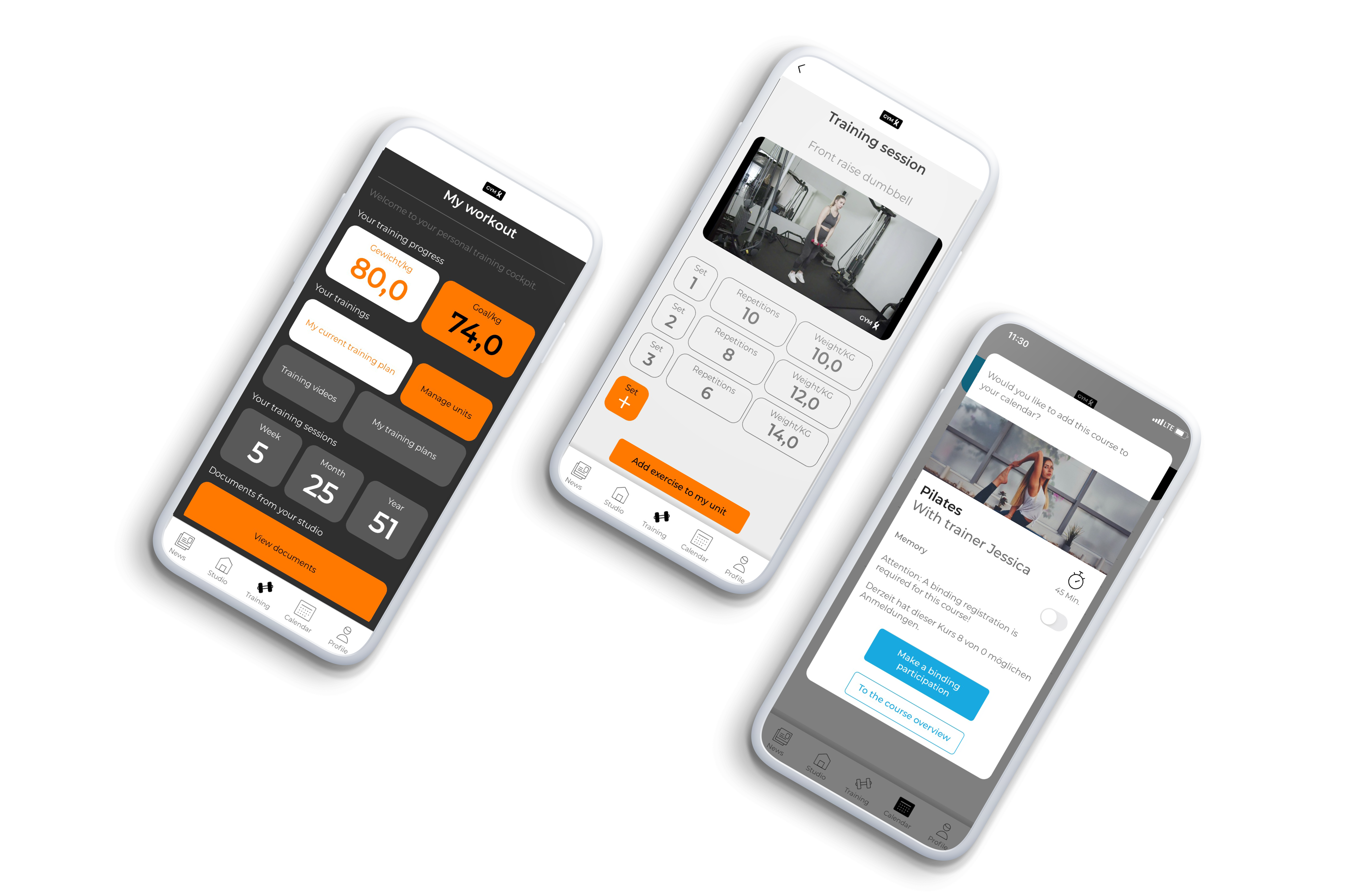 News
Your members will receive the most important news and updates from your club as easily and directly as possible. Special opening times, new employees, exercises of the week or limited studio offers – your members are always up to date with their own digital studio newspaper.
Studio
Create a new kind of personal connection between your members and your club. The full range of studios in the form of training and additional services or the right contact person and individual skills of the employees – your members always have a multifaceted insight into the studio experience. With a data protection-compliant messenger integrated into the app, the digital exchange between your studio and your members is easier and uncomplicated than ever.
Access restrictions
According to the official requirements, only a certain number of people per square meter may be in the studio at the same time. So that your studio can solve this digitally in the simplest possible way, your members simply register the desired time for their studio visit. At the same time, your studio can see at any time what number of people have registered for what time and thus always ensures compliance with the access restrictions.
Training plan
Give your members the chance to train in your studio with the training plan that exactly matches their individual goals. With the function of a digital coach through jointly prepared or prepared training plans, your members in your studio always have a transparent overview of their training program. Your members use the training plan on their cell phone and document their continuous training progress.
Training videos
Enable your members to stay fit from home and integrate your digital training options into the app. Your training and exercise videos from YouTube or Vimeo are used even more easily and specifically by your members from their own studio app. Training progress is not only successful personally on site in your studio, but also digitally in your own studio app.
Training evaluation
In joint trainer discussions or alone on the smartphone – enable your members better support and goal achievement through a deeper insight into their training documentation. This gives your trainers and members the opportunity to discuss the progress made, make changes or create a new training plan based on the training units they have already completed.
Calendar
For a clear overview of the entire studio and course offer, your members have the option of using the calendar function to find the most suitable course for them and to easily register for it in the app. Your studio can see at any time who the participants are and what the course occupancy rate looks like at the status quo. Your members without using the app can easily be added to the lists manually. An automated app course booking system that allows your members to participate more actively in the studio program and become an integral part of your club community.
Member profiles
Each of your members trains individually. Allow your members to sit behind their training cockpit in their own profile. Analyze your own training frequency at different time intervals and have individually adaptable push notifications for the training sent directly to your smartphone – give your members the chance to plan and document their training results even better, so that the training units can be integrated into their everyday lives even more easily .
Push notification from the studio
In addition, the push notification function gives you the opportunity to quickly and easily inform your members about special studio specials, which are limited, for example, time or person-related. In a more direct form than with the news function, your members can view current studio events and actions even more transparently. You decide on the basis of your individual adaptation of the notification types which information you should be informed about directly via your studio app.
Push notification from the member
Help your members take the important time for their health and fitness. With individually adaptable push notifications, you make it easier for your members to integrate their training units into their everyday lives. Your members have the option of having their own push notifications sent directly to their smartphone for individual events, such as a long absence from training or reminders for a specific course participation.